Sale!
| Premium Turkish Towels || Family Pack of 5 | Super Saver Combo | – "The Team"
Despatch in 2-4 Working Days

Easy 2-day returns – (On any Manufacturing defect)
 
" The Team"  is a COMBO pack of 5 that features our entire range of Premium 'Pristine Classic'. This Pack is a beautiful combination of our Bestsellers ' Classic Grey, Royal Blue, Shades of Orange, Rose Pink & Summer Daffodil'.
√ Using the yarn to its full potential, AirDrop technology is a clever technique that takes spinning cotton fibers (100%) and traps them with air. Combining superior absorbency with long-wearing durability, AirDrop Towels are luxuriously woven from the world's finest cotton. Extremely absorbent, and quick-drying, the premium cotton guarantees a clean modern look and plush texture.
√ LIGHTWEIGHT & LESS SPACE: Rolls up neatly to pack & go. Perfect for beach, pool, spa, sauna, gym, yoga, travel, camping, and picnic. Less storage space, takes up about a quarter of the space of a traditional plush towel. Easily stack on small bathroom display shelves or hang on wall hooks. QUICK DRY: 3x faster than a normal cotton towel Softens with each wash.
√ QUICK DRYING: Dries way more quickly both by air and tumble drier (about 20 min on low temp as opposed to 60 min on high for terry towels). The perfect new beach towel, so ditch your heavy sand-covered towel and streamline your summer. The Turkish towel range is perfectly suited for the bathroom and outdoors. Can be used on the beach, in the home, or on the road and your options are endless.
√ ECO-FRIENDLY & SUSTAINABLY PRODUCED – Our eco-friendly towels are created with minimal packaging to help reduce our environmental footprint. You can count on these lasting, as their absorbency increases with each wash. 
√ ABSORBENT AND DURABLE; PROVIDING MULTI-PURPOSE USE – One of the best items you can own; each towel is designed to provide versatility and can be used as a hand towel, dish towel, tea towel, kitchen towel, hair towel, yoga towel, gym towel and more! TO INCREASE ABSORBENCY, WASH YOUR TOWEL BEFORE USE WITHOUT FABRIC SOFTENER.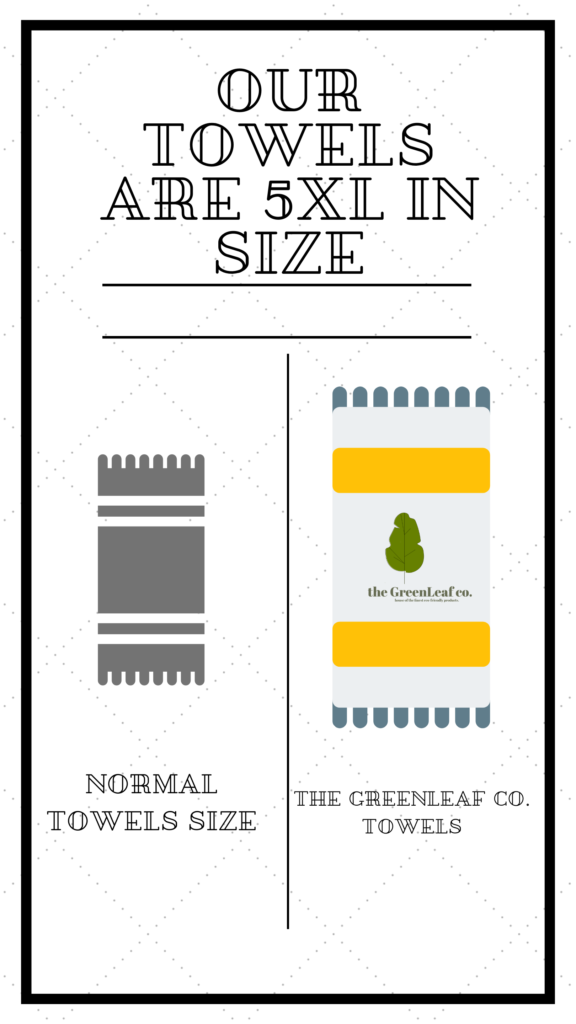 FEATURES :
1st-grade Turkish Towel made with organic cotton
Big in size 76 X 152 cm
QUICK DRY: 3x faster than a normal cotton towel
Softens with each wash
Highly Absorbent
An apt choice for bath, beach, or travel
Extremely lightweight and travel friendly
Perfect travel towel
Looped and loomed with hand-knotted tassels
Adaptable – use as a Bath towel, Seashore Towel, Pool Towel, Travel friend, wear as a sarong or wrap, take to the gym, sauna, outdoors, use in the restroom, or add to your home stylistic decor.
PURE & NATURAL Fibers: Free of microfibre, synthetic, or polyester
PRE-WASHED: Soft, it won't shrink and keeps color
NATURALLY DYED: vegetable dye (baby safe)
Specifications :
| | |
| --- | --- |
| Weight | 280 g X 5 |
| Measurements | Length – 60 inches, Width – 30 inches ( 76 X 152 cm ) |
| Material |  Premium Quality Cotton |
| Wash Care | Machine Wash with Like Colors |
| Size | X-Large |
| Shipping Info | Dispatched maximum in 2 business days. Generally, the same day.  Returns accepted only if there is any manufacturing defect. |
Machine wash on gentle, tumble dry low or air dry. With gentle care, it will last through the years.
The Greenleaf co. towels get better with use, so use them daily without worry!